May 31, Living Out Loud!
on
May 31, 2013
at
3:41 pm
Posted In: Uncategorized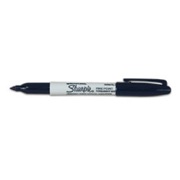 I'm sure most of us have seen the commercial for Sharpies - "Write Out Loud!" What about - "Living Out Loud"? Think about it; when you write with a Sharpie it makes a lasting impression. That's what I want to do for Christ. Paul testified to this in his life again and again: Galatians 2:20 "I have been crucified with Christ and I no longer live, but Christ lives in me. The life I live in the body, I live by faith in the Son of God, who loved me and gave himself for me. " Webster's defines "living" as: 1. having life; being alive; not dead: living persons. 2. in actual existence or use; extant: living languages. 3. active or thriving; vigorous; strong: a living faith. 4. burning or glowing, as a coal. 5. flowing freely, as water. Is that how we're living - active, thriving, glowing, flowing...? "Living Out Loud" doesn't have to be "loud;" it just needs to be REAL! Activate: Use a Sharpie this week to write your grocery list, things to do, sticky note reminders, etc. Let it remind you to not only "write out loud," but to "live out loud" - for Jesus!