on
July 25, 2012
at
10:03 pm
Posted In: Uncategorized
Okay…I have to admit…I love to go barefoot! My feet do not like the confines of shoes!
And by now, you are wondering if I've lost it or not – sharing about my love for going barefoot! Crazy or not – I see a vital spiritual lesson here.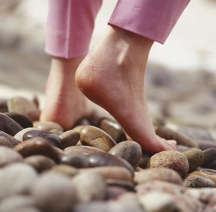 Think about it – why do we where shoes? Well for starters, they protect our feet from sharp objects, parasites & other crawly things, hot concrete, stickers, etc. Something else happens to my feet when I go barefoot too often though – my feet get dry and calloused.
Not too long ago when I was studying the armor of God listed in Ephesians 6, God had me focus on "shod your feet with the Gospel of peace." This got me to thinking….it's a lot like when I go barefoot, if I neglect wearing the shoes of the Gospel of peace.
The Gospel, or Good News, changed my life! Through faith I was able to have peace with God. That means that no matter what life brings my way – sharp objects, spiritual parasites, hot concrete or just stickers, I am protected because of the work of the Gospel in my life.
Also, if I neglect putting on the shoes of the Gospel of peace, my heart can become dry, hard and calloused toward others and towards God. The Gospel of peace prepares us to walk in His love as we take the Good News to others!
Yep, wearing shoes is important in this world in which we are sojourning. So when you put on your physical shoes, remember how important it is to also "shod your feet with the Gospel of peace!"
"For shoes, put on the peace that comes from the Good News, so that you will be fully prepared. Ephesians 6:15 NLT